Calling all collectors and creators of NFTs with Halloween vibes! RARA's NFT Registry is open for reaction registrations.
RARA is on a mission to create an open social curation protocol for NFTs. A few months ago we opened up the protocol for builders of all shapes and sizes to use. Two weeks ago, RARA's app expanded its private beta to include new friends looking to join the curation conversation with reactions.
Starting today, NFTs added to RARA's Registry will be immediately available for use curating NFTs - no community voting required.
Welcome friends to 💀 Reactober 👻.
💀 Reactober 👻
Reactober is a call for registrations of all things Halloween. We want all the 💀 skulls, 👽 aliens, 🧟‍♀️ zombies, and gory NFTs you got.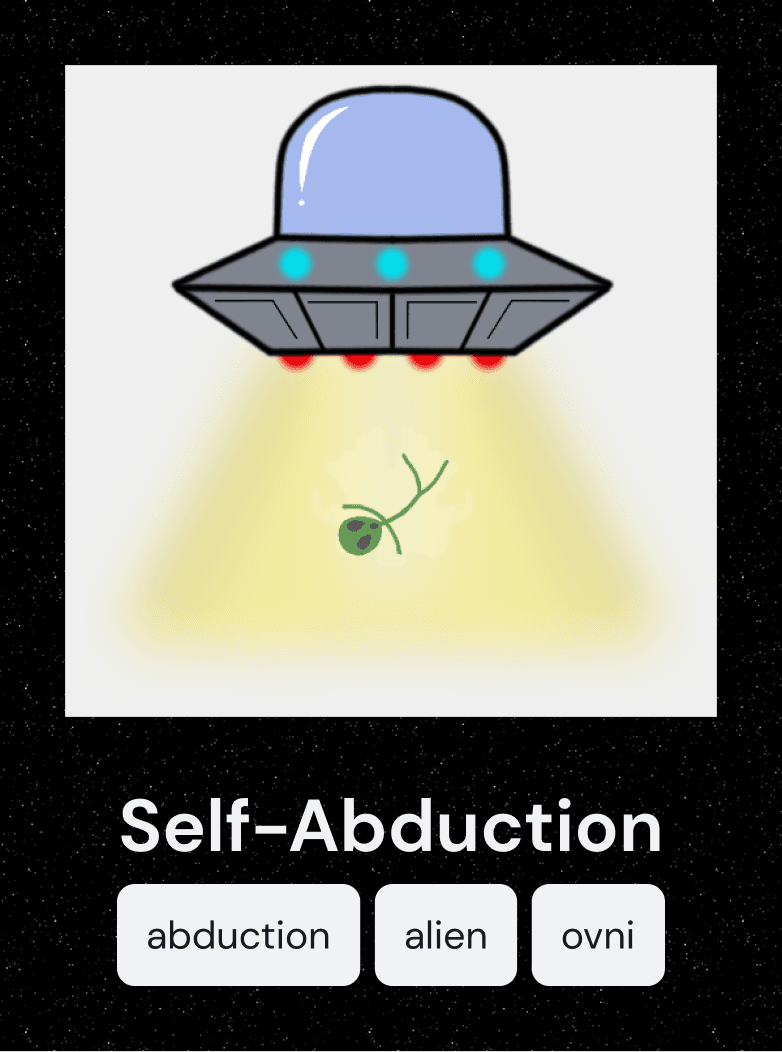 All registrations this month have a chance to win 666 $MATIC too! Follow the instructions in these tweets to enter.
Waitlisted Reactions
If your NFT was waitlisted during the Genesis Reaction Registry, it will be auto-added to the app unless otherwise flagged for content/IP issues.
October Let's Curate! Exhibits
Say GN to Monday's "GM" exhibits because this month we'll be changing up some of our recurring community exhibits. Here's the rundown:
Monday's "GN" - GM/GN are the Yin and Yang of crypto. For every good morning, there is a good night. NFTs with the "gn" tag best represent this goodbye ritual.

Tuesday's "Ghost Stories" - Nothing gets the imagination running like scary stories. These artist's NFTs will haunt your dreams and your feed. Muahahaha!

Wednesday's "What's Hot?" - NFTs in the "whatshot" Exhibit are trending at the time of curation. Over time, this exhibit will create a pulse of the NFT art and movement.

Thursday's "Let's Curate" + Twitter Space - A different spooky theme each week!

Friday's "Freaky Fridays" - Not all art is pretty, and not all NFTs are GMs. Let's dig into the dark corners of the metaverse for the artists who embrace the macabre.

Weekend's "Reactober" - With the RARA's Registry reopening, we'll be curating all the NFTs the community wants registered as Halloween themed reactions.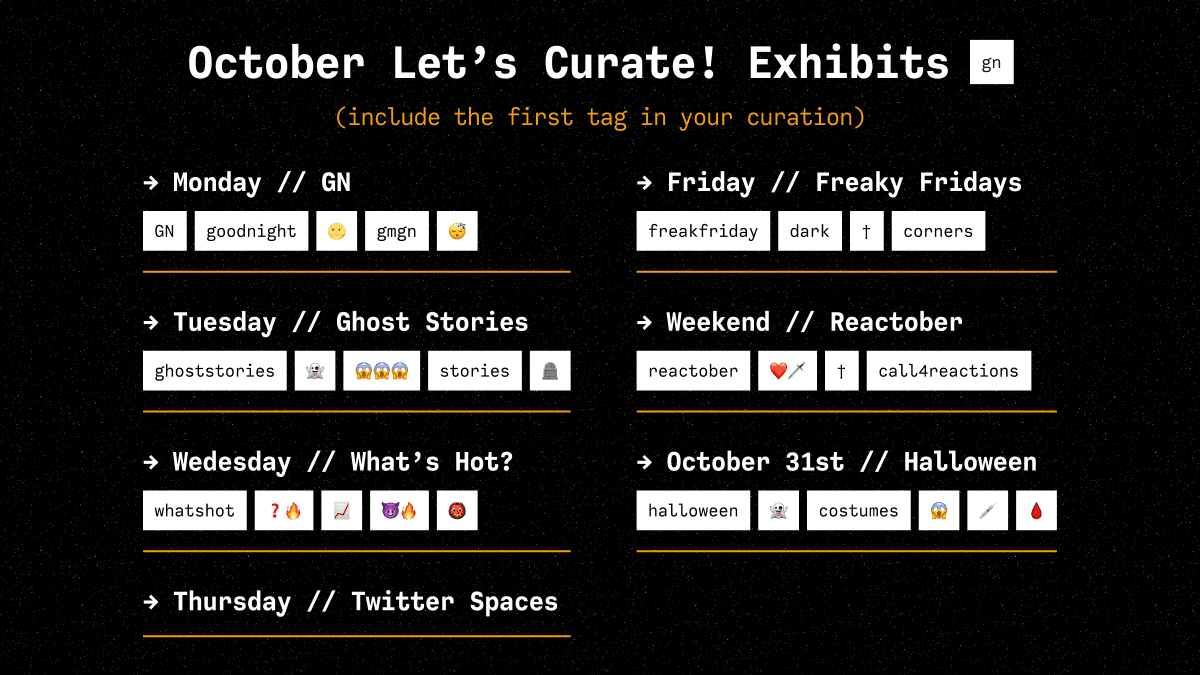 Today!, October 6th - 💀 Reactober 👻 - Curating all the NFTs RARA's community wants collectors and creators to register as reactions for Reactober.

October 13th - Frankenstein Collages - With a leg from here, an arm from there, and a head from who knows where, Dr. Frankenstein brought life to a creature greater than the sum of its parts. Which artists have up-cycled images to create collages with a whole new meaning and perspective?

October 20th - Sci-Fi - Sci-fi has captured the minds of children and adults for decades. With roots in scientific storytelling, it makes sense that NFTs as a technology are becoming the vehicle of choice for new age Sci-Fi. Explore this exciting, futuristic space with guest curator Patternbase.

October 27th - Zombies vs. Aliens - Two of the most prized traits amongst CryptoPunks and subsequent PFP collections, zombies and aliens can now be found all over the NFT space. This exhibit attempts to settle the war once and for all - Zombies or Aliens?
On Monday, October 31st, we're closing the month out in style with the "Halloween Costume Party" exhibit - Halloween, like any great PFP, is about self-expression – So dress up and Curate your NFT costume!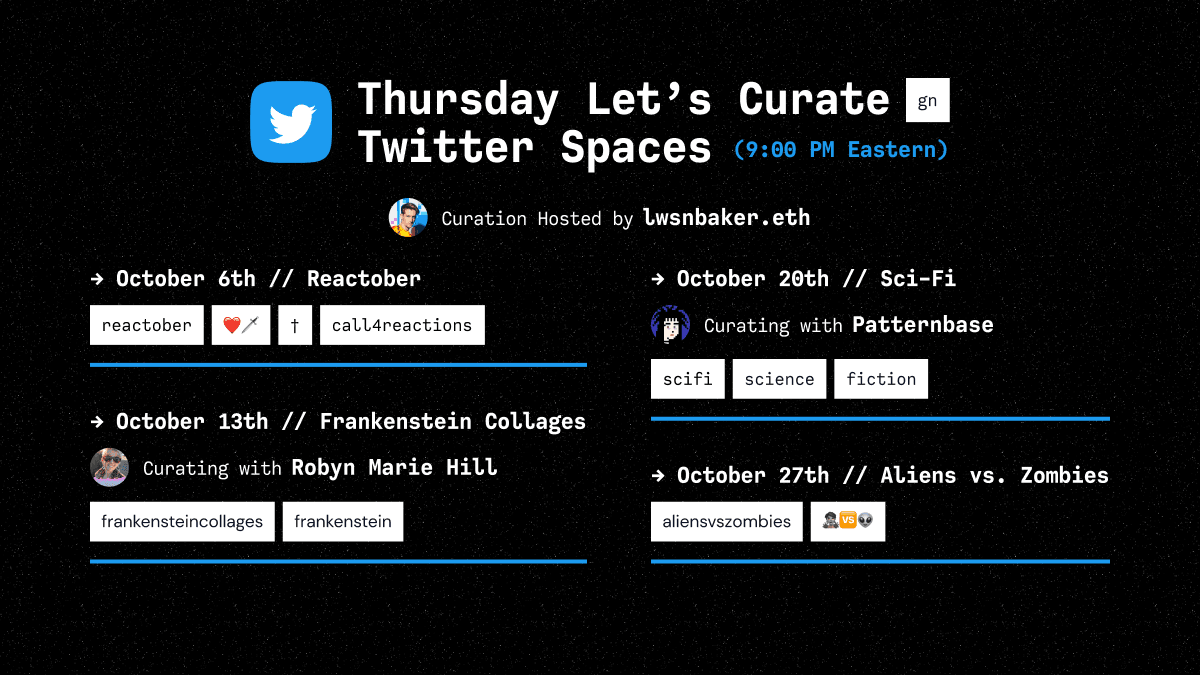 ---
That's it friends. Register your NFTs as reactions at app.rara.social/add. Join the curation conversation every day on RARA.
---
Follow us on Twitter @rara_social.
Sign up for electronic mail updates at RARA.social.
Join our community on Discord at RARA.house.
View tutotiarials or community calls on YouTube.
Weekly Events
Thursdays at 9PM ET - Let's Curate! (Twitter Space)

Fridays at Noon ET - General Admissions x Community Call (Discord)